Post by SignOfZeta on Feb 21, 2019 23:52:17 GMT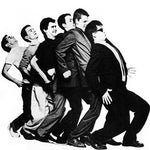 1) The whole mapping of a ROM at bank $90 is only actually performed if the machine is NOT a TG-16, so... huh ? And it's not even a JSR, so it doesn't appear as though it could be setting anything up... just a dead-end.
2) This code actually doesn't *do* anything except check one bit on a piece of hardware. Unless, when they decided not to include the ROM, they also decided to reverse-sense that bit. But even then, why did the fall-through execute the actual game ? One would expect that "fail" should go into an infinite loop or something.
3) In any case, Gunboat and Klax used that code, but put NOPs in-between the branch and the NO_PROTECT label. So, no "NEC" string either, so no appearance of copyright. And no protection either.
Given the cost dynamics of Japanese versus American systems, they would have been trying to protect things so that American machines couldn't play the much-cheaper Japanese games, but the Japanese games had nothing in them to stop them from playing. I think somebody was simply taking too many drugs or something.
Dave
I can't pretend to understand half of this thread but this part puzzled me. At what point in 1987-1990 were Japanese games much cheaper than US ones? My memory is...never. Maybe a few years earlier in the Famicom days (lower cart prices and much better exchange rate for Americans) but even then...checking the prices in period adverts for import games in the US shows $60-100 as normal for PCE, way more than any US MSRP TG16 game.
And I feel weird typing that because I'm pretty sure you know this too so I'm confused...
The region lockout seemed pretty easy to understand in non-techncial means. They did it to protect Japan. Both from pirate carts and from reverse importing. Japanese companies still do things to discourage reverse importing. A LP box set I got this week (80s New Age music) is specifically prohibited from going on sale in Japan. Everywhere else is fine.